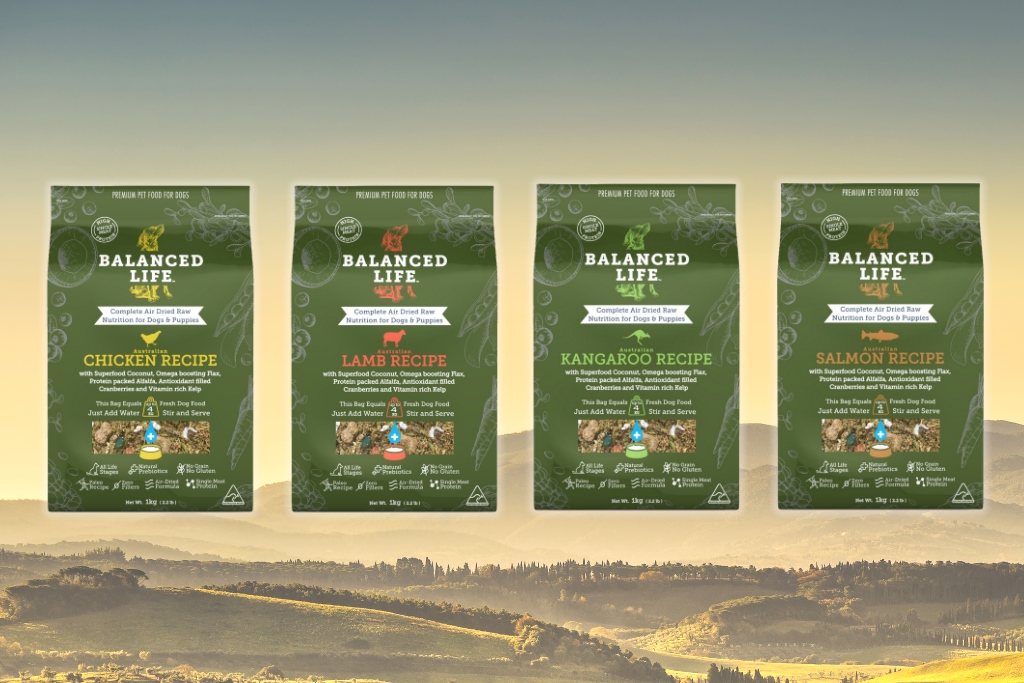 Balanced Life foods and treats are made in NSW.  They are air dried for maximum nutrition and are packed with the best healthy, natural Australian ingredients. The cooking process in many pet foods and treats destroys some of the nutritional value, particularly antioxidants and Omega 3 and 6 essential fatty acids. Air drying fresh ingredients minimises food processing and maximises nutrition.  In order to minimise the environmental impact of producing Balanced Life products, Australia's largest thermal roof was built to power the air drying process.
Balanced Life treats are available for both cats and dogs, while the food is currently only available for dogs. When prepared, each bag produces many kilograms of food, making Balanced Life perfect for pet owners who don't have room to store enormous pet food bags.

The Balanced Life range contains lots of meat (from Australian farms) and premium fruits and veggies, including superfoods such as kelp, cranberries, alfalfa, and coconut. All Balanced Life foods are grain free and gluten free, with no worthless fillers like rice or corn.
Balanced Life food is single protein—containing either chicken, lamb, kangaroo, or salmon—making it perfect for pets with sensitivities or allergies to particular meats. Each bag contains 80% raw meat.
Balanced Life for Dogs
Available in 1kg and 3.5kg bags. Save an additional 5% if you create an auto-reorder.

Balanced Life Companion Treats (Dogs + Cats)
Premium quality semi-moist pet treats.