It is not known where, or when the first hairless dogs appeared, but geneticists have designated it as Canis Africanis, which is very possibly correct for no hairless dog could exist in the wild and would not evolve in a cold climate. Something caused a gene to mutate and so the first hairless dogs appeared from their coated parents.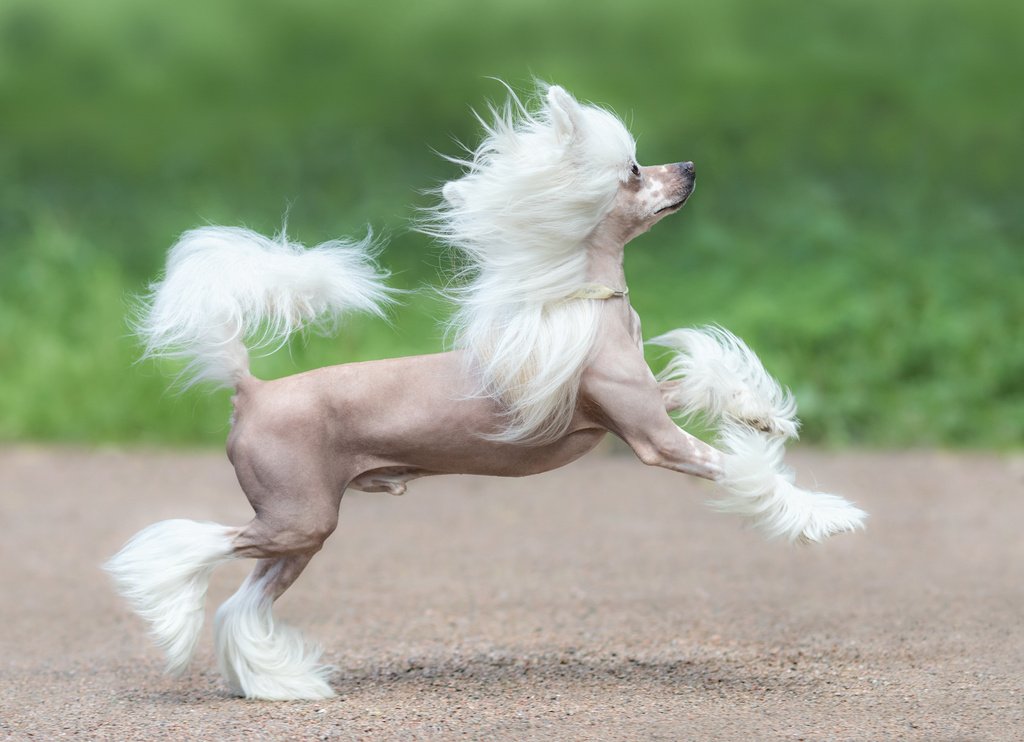 Fun Facts
When Chinese Crested Dogs are mated either a Hairless x Hairless, or Powderpuff x Hairless both varieties of hairless and powderpuff can be born within the litter. However, from a Powderpuff x Powderpuff mating, theoretically only Powderpuff can be born. The long coat is a recessive gene with the hairless gene being dominant.
The Hairless variety has missing teeth. The forward pointing canines and the absence of some, or all of the pre-molars are an integral part of the genetic make-up of the hairless dog. It is an historic fact that all hairless breeds throughout the world have a record of missing teeth.
They are great at agility and flyball. Their bodies are well-suited for running and jumping, they are also highly intelligent and love to please their trainers. Some have also been known to be trained as therapy dogs.
The shape of their foot is longer than any other dogs' foot. Both centre toes are appreciably longer than the outer and inner ones, and toe arching is less marked giving a longer appearance overall. With their toes being longer, they are able to curl them and grasp objects and climb easily.
The two varieties
Hairless dogs have always been rare and would have originally been regarded as curiosities and highly prized for trading purposes. The name Chinese Crested Dog is believed to have descended from the fact that these dogs were popular with Chinese sailors on Chinese ships where they were used to capture vermin like rats and was developed during the Han Dynasty.
The Chinese Crested Dog is a unique looking breed. The breed has two varieties, Hairless and Powderpuff.
The Hairless variety has hair on three areas of the body: the head, the tail and the feet. The texture of all hair is soft and silky, flowing to any length. The skin of the Hairless is very soft which can feel like velvet suede. Most Hairless Chinese Crested will carry some fine body hairs, which are tidied up prior to exhibition.
The Hairless skin comes in a very attractive variety of colours, ranging through the various slates, blues, lilacs, and pink and mahogany shades, which can be richly brown pigmented to palest honey. The crest and furnishings are often white but can be any colour or combination of colours and even, occasionally, all black. Skin colour varies with seasons, with pale winter colours reaching a full rich deeper colour in summer.
The Powderpuff variety is completely covered with a double soft and silky coat. Close examination reveals an undercoat which has a fine silky texture, whilst the veil coat is also fine but of a slightly coarser texture and much longer. Powderpuff coat can have many combinations of colours ranging from black, white, brown and tri colour.
The Chinese Crested dog is a small breed of dog with height of male dogs 28-33 cms (11-13 ins) at withers and female dogs 23-30 cms (9-12 ins) at withers.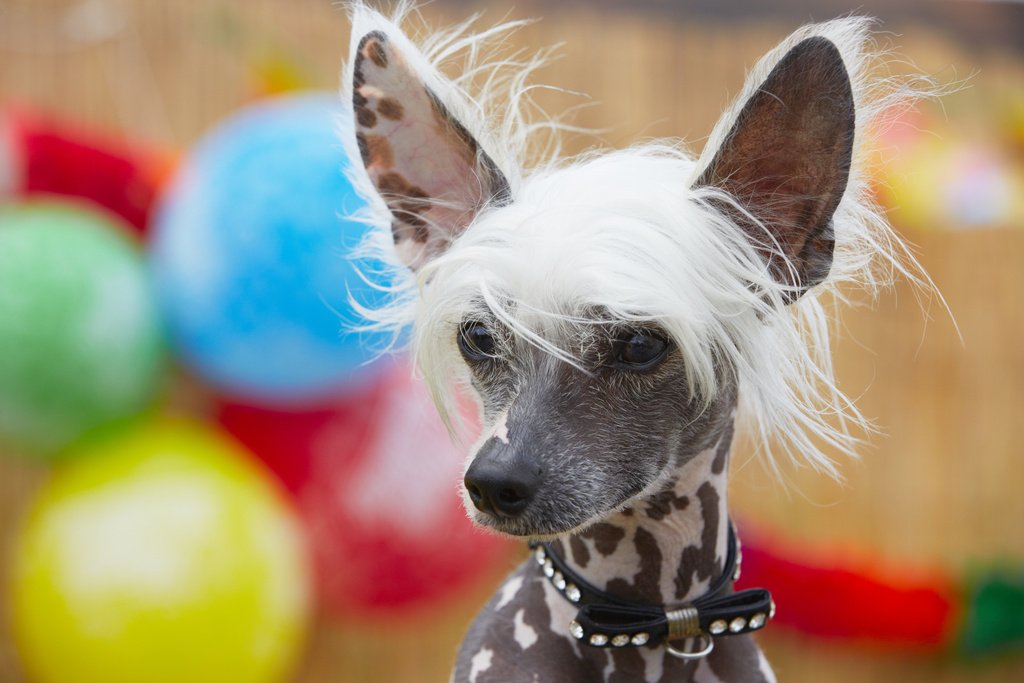 Temperament
The breed is happy, highly intelligent and alert. Whilst they can be real extroverts in familiar surroundings they can, however, be apprehensive of strangers and rather aloof in manner. The Chinese Crested Dog is a great family pet who is playful, affectionate, and endearing and can adapt to all living styles.
They are happy to laze around all day or enjoy a very active lifestyle. The breed is a stable companion who fills their owners' lives with love, laughter, and entertainment.
Care
The Chinese Crested Dog is an odorless, clean dog and may be a very good choice for allergy sufferers. It sheds very little hair.
Both varieties require certain amounts of grooming. The Powderpuff is entirely covered with a double, very soft, straight coat. Although a Powderpuff's coat does not continuously grow, it can grow to be quite long at full length. A weekly bath and daily brushing will help prevent matting. Many pet owners choose to shave their Powderpuff in a "Pony Cut" leaving long hair on the bottom of legs, tail, head and crest for an easy-care coat.
Maintenance of the Hairless variety's skin is like maintaining human skin and as some can be susceptible to acne, dryness, and sunburn. Hypoallergenic, or oil-free moisturizing cream can keep the skin from becoming too dry when applied every other day, or after bathing. Sun burning can occur for lighter coloured skin during hot summer days. Most owners use children safe sunscreen and apply to their hairless dogs' skin before spending time in the strong sun. On cold days/nights it is highly recommended to put dog pyjamas on them to keep them warm.
Overall the breed is very much like cats as they don't like to get dirty and will tend to clean themselves a lot.
Australian Champions
Australia has many breeders within all states that showcase Chinese Crested dogs in conformation classes and agility. There have been many big winners who have broken records both nationally and internationally. Our major winner for Australia is a Hairless called Miyagi (Australian Supreme Champion Karakush Wax On Wax Off). Miyagi had achieved:
32 Best in Show awards, a world record for Chinese Crested
105 Best in Group awards
5 Chinese Crested breed specialty Best in Shows
Best in Group at Sydney Royal Easter Show two years in a row, 2016 & 2017
Runner Up to Best in Show at Sydney Royal Easter Show 2016
The youngest crested to obtain Supreme Championship status at 20 months of age
Australia's top toy placing; #1 2015, #3 2016, #2 2017. Representing NSW at the Australia's Top Dog Competition All Breeds in 2015.
As a sire he produced multiple Australian and International Champions, 2 x American Grand Champions, 2 x Supreme Champions, multiple Best In show winners All breed and breed specialty. With one daughter winning Best in Group at Sydney Royal and a son who is a Champion in 13 European / Australian countries including his International title, winner of 13 Best in Shows including seven specialties.
Another record breaker for Australia was a Powderpuff called Shawn (Australian Supreme Champion Blackheath Quashawn). Shawn had achieved:
Australia's first Powderpuff Grand Champion
Australia's first Powderpuff Supreme Champion
Multiple Best in Group winner
Multiple breed specialty Best in Show winner
As a sire he had produced many Australian Champions
The Chinese Crested Club of NSW was established in 1993. Our club focuses on showcasing this wonderful breed.  It is the only breed club still hosting shows for The Chinese Crested Dog within Australia. We have two specialty shows on the 5th April 2020 that are being judged by two breed specialists.
The shows will be held at:  The Bill Spilstead Complex for Canine Affairs, 44 Luddenham Road, Orchard Hills, NSW 2748.
We encourage all pet people and people who have interest with the breed to come out for the day to meet and ask questions. All breeders are very welcoming to answer questions and help one another.
For full details of the club and the forthcoming specialty shows, please contact Skye Mawson at chinesecrestedclubofnsw@hotmail.com
MyPetZone is proud to be a part sponsor of these events and wishes The Chinese Crested Club of NSW every success for their special day on 5th April 2020*.
*Owing to the coronavirus situation, DogsNSW has cancelled all shows until 30 April 2020.  It is understood that The Chinese Crested Club will be able to hold their shows until October at the earliest.  Further information will be given as it is received.